This coming weekend is one of the biggest in San Antonio in recent memory. Virtually everyone is involved in some way or another.
Friday July 27 - MAW at Vaquero's Sports Ba
r
Weather permitting, Mexican American Wrestling will be running at Vaquero's Sports Bar 622 Roosevelt. Scheduled bell time is 7:00 PM.
Saturday July 28 - Dusty Wolfe Seminar at

TWE
Texas Wrestling Entertainment
and the
Texas Wrestling Academy
is sponsoring a seminar with one of the most respected wrestlers in the business, Dusty Wolfe.
RBG
has released the following information.
One of the most respected names in the business, and has been around the world, and with every major wrestling company in the United States, Dusty Wolf will be conducting a Pro Wrestling Clinic, Saturday July 28
th
at the Texas Wrestling Academy 9107
Marbach
Rd, San Antonio, Texas. Training starts at 10am and will ending sometime around 4 to 4:30.
Cost will be $25 per person.
Dusty has worked with both
WWE
, as well as
WCW
, not to mention has traveled through out the United States and many different countries, and continues to do so.
Any worker breaking into the business, or any worker already in the business, should not miss an
opportunity
to learn from some one who has been there, and done that.
For more information, contact the TWA at 210.797.1686
Saturday July 28 -

RCW

Announces new venue for show.
River City Wrestling has released several announcements concerning their show this Saturday. The following contains the most up to date information
from these
announcements.
VENUE CHANGE - Saturday's event will now be held at Hope of Glory Church
Come see

TNA's

Eric Young and Masada vs.

Ikaika

!


River City Wrestling
, along with
RED

jAK

Energy Drink
and
Gallista

Gallery
, present
live professional wrestling
on
Saturday, July 28
at
Hope of Glory Church
, located at 339 W.
Hutchins
in San Antonio, TX. Hope of Glory Church is located just south of the SW Military Drive and
Pleasanton
intersection, less than a mile away from the
Hutchins
/
Pleasanton
intersection.
In addition, the event will be pushed back by 30 minutes.
RCW

will open its doors at 7:15 p.m., and the show will begin promptly at 8:00 p.m.
The event was originally planned as an outdoor event at Tiffany's Billiards, but inclement rain, flooding, and high chances of rain for Saturday caused the change. All previous ticket orders and reservations will be honored.
Tickets are $10 in advance, $12 at the door. Front row seats are available for $15, in advance or at the door, and only while seats last.
Advance tickets may be purchased online at
rcw

-wrestling.com
, or by calling
(210) 842-8398
. The discount tickets must be ordered by Thursday, July 26 at 10 p.m.
Here are what fans can expect on July 28:
The Treats pick their dream partners
At the last
RCW
event on June 30, Commissioner Ray The Voice announced the stipulations for the July 28
supercard
: each of the now-defunct
Texas
Treats —
Don Juan and Chris

Marval
— had to pick a dream partner of their choice. Don Juan chose the extremely arrogant — and insane —
"Real Deal" Rory Fox
. Chris
Marval
, however, placed a few phone calls, and chose
"Showtime" Eric Young
, a competitor that can be seen nationally on television every Thursday night at 8:00 p.m. on SPIKE! for
TNA
iMPACT
. Ironically, Young defeated Fox back in April of this year when Young
made his
Texas
debut. Apparently, these two still have a score to settle, while the war continues between the once-friends-now-bitter-enemies Don Juan and Chris
Marval
.
Here we go ... one more time!


RCW

Champion Masada
returns to the states after his most recent tour of
Japan
, and will face number one contender
"The Smashing Machine"

Ikaika
. Back in February of this year, Masada brought
Ikaika's
title reign to an end in grueling, insane match.
Ikaika
would earn the distinction as number one contender by winning a cage match over "One Man" Mike Dell. Now these two men will duke it out one more time in a match that promises to bring the house down.
Plus... The
Hardbodies
(Joey
Spector
& Andy Dalton) defend the
RCW
Tag Team Championship against Marty Cone and Kris
Kronie
!
Here's a list of other wrestlers confirmed for July 28
-
RCW
Cyber
Champion
Sicodelico
Jr.
- "Mr. Beautiful" Rudy Russo
-Scott McKenzie & Danny Matthews
- "The Mind of Wrestling" J.T.
Lamotta
- Wally
Darkmon
Also ...
RCW
has promised Tiffany's a show, and we will deliver. We will most likely move our August 18 date to Tiffany's rather than the Indoor Soccer Club. Once again, stay tuned for information as it develops.
Check out this video: July 28th news bulletin part 1
Check out this video: July 28th news bulletin part 1

Check out this video: Don Juan interrupts 7/28 news PART2
Check out this video: Don Juan interrupts 7/28 news PART2

Saturday July 28 - PWI at Premier Cheer

Pro Wrestling International Entertainment returns to Premier Cheer at 2439 Castroville Road Saturday July 28. Bell time is 7 PM.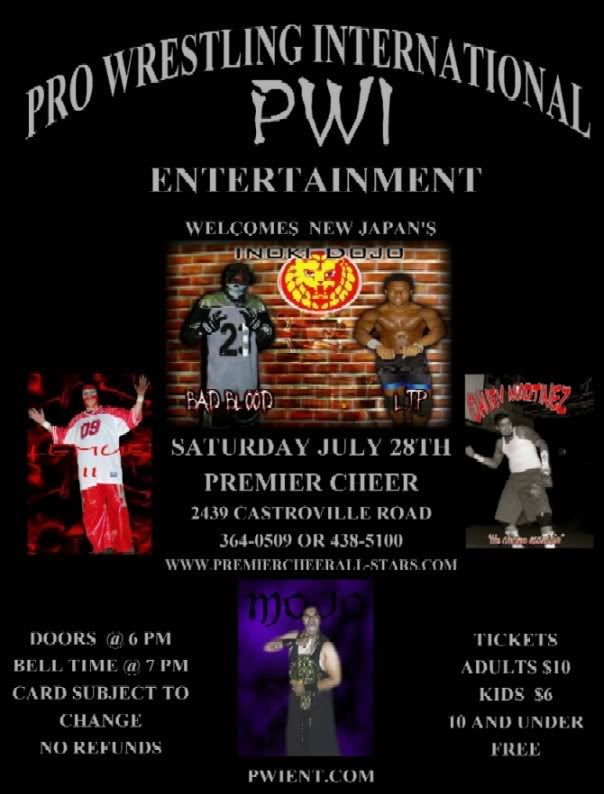 WORD TITLE MATCH
MOJO Vs. THE GREAT RYU
(challenger) (champion)

PWI U.S. Chamipon JULIO MARTINEZ

CHUEY MARTINEZ

OZZY MANSON

BLUE ANGEL

REXX REED

SIN-SATIONAL SAL

BADD BLOOD

FROM ZERO-ONE MAX LTP

SEXY CHINO

SEXY STEVI KOI


Sunday July 29 - ACW presents Chris Hero Seminar

Anarchy Championship Wrestling is proud to announce a special training seminar with one of Independent wrestling's biggest stars, CHRIS HERO!

Sunday July 29th 2007 at the venue in San Antonio, Texas all professionally trained wrestlers are invited to come and tap into the wealth of knowledge that former Ring of Honor Tag Team champion Chris Hero has to offer. The price of this seminar is only $30 and will start at 2:00 and will be followed by Anarchy Championship Wrestling Presents: Pick your Poison featuring Chris Hero in Action.

Chris Hero Training Seminar
Price: $30
Time 2:00 – 4:00
800 Lexington Ave
San Antonio, TX

For further info please contact ACW at anarchychampionshipwrestling@gmail.com or by calling (512) 531-9776.

Sunday July 29 - IWA Texas-ACW presents "Pick Your Poison"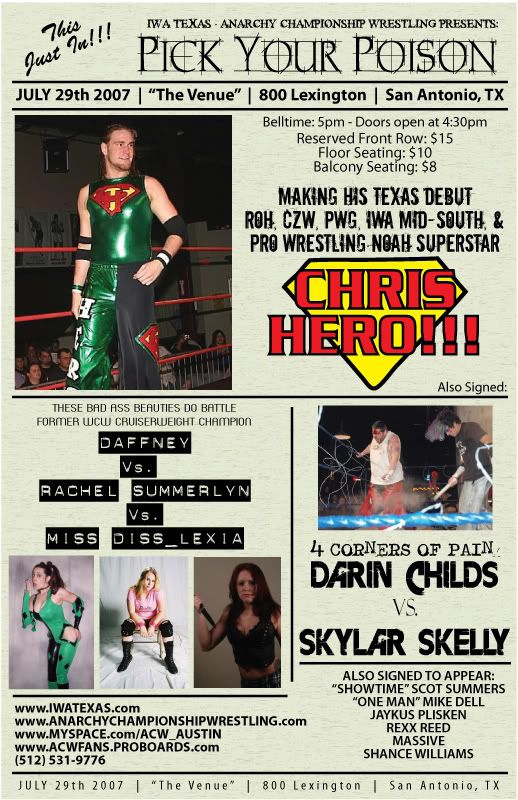 JULY 29th 2007
"The Venue"
800 Lexington
San Antonio, TX
Belltime: 5pm - Doors open at 4:30pm

Reserved Front Row: $15
To purchase reserved front row seats please go the www.myspace.com/ACW_AUSTIN under the "interests" section.
Floor Seating: $10
Balcony Seating: $8

MAKING HIS TEXAS DEBUT
ROH, CZW, PWG, IWA MID-SOUTH, & PRO WRESTLING NOAH SUPERSTAR
CHRIS HERO!!!

Also Signed:

BAD ASS BEAUTIES DO BATTLE
FORMER WCW CRUISERWEIGHT CHAMPION
DAFFNEY
Vs.
RACHEL SUMMERLYN
Vs.
MISS DISS_LEXIA

The Opening Round Matches in the Young Guns Title Tournament

Julio Garza
vs.
Berry Breeze

Ricky Rhodes
vs.
Shance Williams

JUST ANNOUNCED!!!

Double Trouble
vs.
Shawn Vexx & Marco Rivera

&

MASSIVE
vs.
NATHAN SINN

ALSO SIGNED TO APPEAR:

"SHOWTIME" SCOT SUMMERS
"ONE MAN" MIKE DELL
REXX REED
DARIN CHILDS
GREGORY SYMONDS

www.IWATEXAS.com
www.ANARCHYCHAMPIONSHIPWRESTLING.com
www.MYSPACE.com/ACW_AUSTIN
www.ACWFANS.PROBOARDS100.com
(512) 531-9776

Also this from ACW -

I am saddened to announce that something we have known was bound to happen has finally happened. The main event of the July 29th event entitled Pick your Poison was to be Darin Childs vs. Skylar Skelly in a 4-corners of pain match…that match will not happen as advertised. The ACW Hardcore Champion Skylar Skelly is scheduled to undergo surgery to rebuild his severely injured right shoulder on July 30th, Therefore will not be able to compete at Pick your Poison. The initial timetable for Skylar Skelly's return is sometime in early 2008, he will be out of action at least 6 months. All that is known at this time is that Skylar Skelly will have something to say on July 29th and Darin Childs' role at Pick Your Poison is now unknown.