ACW

announces upcoming show and main event


Lost in the excitement of the last

ACW

show, with Jerry Lynn winning the championship and the announcement of the formation of

IWA

-Texas: Anarchy Championship Wrestling was the announcement of an upcoming show on July 8

th

at the Venue in San Antonio.

IWA

-Texas: Anarchy Championship Wrestling presents "From Innocence to Insanity" will be headlined by 4-way elimination match for the

ACW

Heavyweight Title featuring Darin

Childs

, Mike Dell, Showtime Summers and Champion Jerry Lynn.

Also, from www.anarchychampionshipwrestling.com
ACW
Is proud to
announce
that
ACW's
Anarchy TV is currently in production. The first few shows will air soon here on Anarchy Championship
Wrestling
.com!!! Stay Tuned.
Anarchy Championship Wrestling has a show this Sunday:
IWA

-TEXAS:
ANARCHY CHAMPIONSHIP WRESTLING PRESENTS: A

SEXXXY

SUNDAY NIGHT

FAN APPRECIATION NIGHT!!!!
ALL SEATS ARE ONLY $7
SHOW STARTS AT 7pm DOORS OPEN AT 6:15...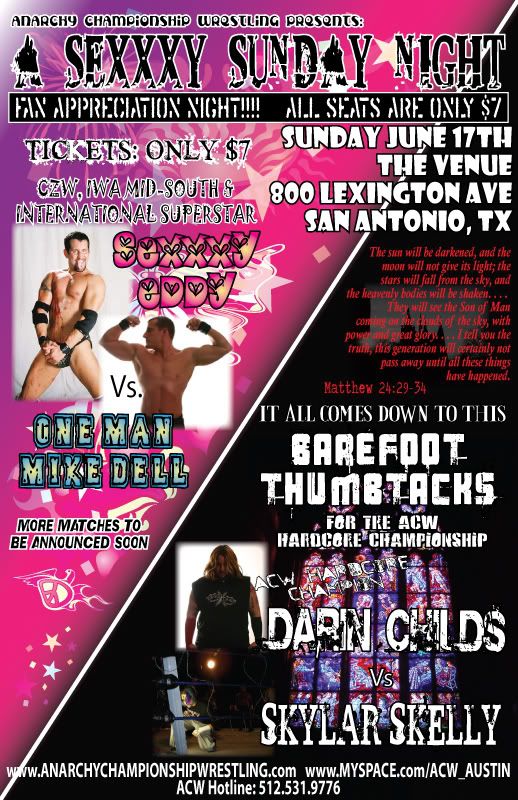 Photobucket" border="0">

SUNDAY JUNE 17

th


THE VENUE
800 LEXINGTON AVE
SAN ANTONIO, TX

TICKETS: ONLY $7

ALREADY SIGNED:

BAREFOOT THUMBTACKS FOR THE

ACW

HARDCORE CHAMPIONSHIP


ACW

HARDCORE CHAMPION
DARIN

CHILDS


Vs.
SKYLAR SKELLY



CZW

,

IWA

MID-SOUTH and INTERNATIONAL SUPERSTAR


SEXXXY

EDDY
Vs.
"ONE MAN" MIKE DELL

WITNESS THE FIRST EVER ENCOUNTER
"

XTREME

BULLDOG"

REXX

REED
Vs.
BIG JAPAN,

CZW

,

IWA

-MS,

ROH

,

PWG

&

CHIKARA

SUPERSTAR


NECRO

BUTCHER

Former

ACW

Heavyweight Champion
SHOWTIME SUMMERS
Vs.
"MR MTV" RORY FOX

MORE MATCHES TO BE ANNOUNCED SOON

www.ANARCHYCHAMPIONSHIPWRESTLING.com
www.MYSPACE.com/ACW_AUSTIN
(512) 531 - 9776
RCW

releases several videos.


The production crew behind www.myspace.com/rcwvideo have been busy recently, releasing several exciting videos including an

Ikaika

Highlight Video, a Ray The Voice clip, The Tag Team Championship Match between The

Hardbodies

and The Texas Treats (including the break-up of the Treats) Part 1 and Part 2, and a Video Statement from Don Juan.

River City Wrestling returns to action on June 30

th

:

River City Wrestling and RED
jAK
Energy Drink present live professional wrestling on Saturday, June 30 at the Indoor Soccer Club, 1215 N. Alamo St, San Antonio, TX. Doors open at 6:45 p.m., event starts at 7:30 p.m.
The event benefits Hope of Glory Church, as the
southside
Christian church will be handling concessions at the event.
Tickets are $10 in advance for the floor, $8 general admission in advance. Advance tickets will not be sold after 10:00 p.m. on Thursday, June 28.
Tickets at the door are $12 for the floor, $10 for general admission.
Advance tickets can be purchased by:
- calling (210) 842-8398 and placing a reservation (when placing a reservation, please give your name, address, and how many tickets you need).
- ordering online with
Paypal
!
Paypal
is fast, free, and easy to use! Fans can order tickets with a checking account or credit card.
RCW
fans will see Don Juan, Chris
Marval
, "One Man" Mike Dell, "Real Deal" Rory Fox,
RCW
Tag Team Champions The
Hardbodies
, B.J. Turner, and more! Plus The Lovely Ladies of
RCW
.
Plus ... a huge announcement coming soon!!!!!!!!!!!!
Check
www.rcw-wrestling.com
for details.
PWI

and

RCW

announce working relationship


Pro Wrestling International and River City Wrestling issued joint press releases this week proclaiming a working relationship:


"

RCW

is willing to help out other promotions, and we will be doing this soon with the San Antonio-based promotion

PWI

. You might be seeing some

RCW

wrestlers at a couple of their upcoming events.



RCW

and

PWI

have been talking for awhile, and the positive is communication as it doesn't feel like

PWI

is "going behind our backs" to book talent. The respect is there, the communication is there, and it's convenient for the fans, the wrestlers, and the promotions."

Pro Wrestling International Entertainment has a show this Saturday:




Saturday Night June 16, 2007

Pro Wrestling International Entertainment

At

SPLACH

BAR and GRILL 905

Nogalitos



San Antonio

Tx

.

Tickets $8 each Kids 10 and Under Free

Doors Open @ 6pm

Bell Time @ 8pm

Plus in Action
You'll see

PWI

World Heavyweight Champion The Great

RYU

, International Champion Ozzy Manson,

Mojo

, Blue Angel, Vega, The

Houligans

, and

Sinsational

Sal

A night that you will never forget

www.PWIENT.COM

June 16

th

Saturday Night at

SPLACH

BAR and GRILL

See ya at the Show


Texas Wrestling Academy announces August Session


The Texas Wrestling Academy is now signing up potential superstars for its August session, set to begin Monday August 6

th

. For more information please call... 210.797.1686
Area Shows this weekend:


Friday June 15

th

- Mexican American Wrestling at

Vacquero's

Bar 2600 South Flores 622 Roosevelt. 7:30 Bell Time

Saturday June 16

th

- Southern Heat Wrestling Association at Medina Lake RV Resort 10660 PK Rd 37 in

Lakehills

Texas. 6:00 PM Bell Time

Saturday June 16

th

- Texas Wrestling Entertainment in Marble Falls Texas 6:00 PM Bell Time

Saturday June 16

th

- Pro Wrestling International at S.P.L.A.C.H. Sports Bar 905

Nogalitos

. 8:00 PM Bell Time

Sunday June 17

th

- Anarchy Championship Wrestling at The Venue 800 Lexington 7:00 PM Bell Time