ACW presents "April Reign" in Seguin Thursday
ANARCHY CHAMPIONSHIP WRESTLING PRESENTS: APRIL REIGN

THURSDAY NIGHT
APRIL 19th, 2007
The Fiesta Ballroom
735 E. IH10
SEGUIN, TX 78155
BELL TIME: 7PM
DOORS OPEN AT 6:15 PM

TV SPOT April 19th 2007

Tickets
Front Row: $10
General Admission: $8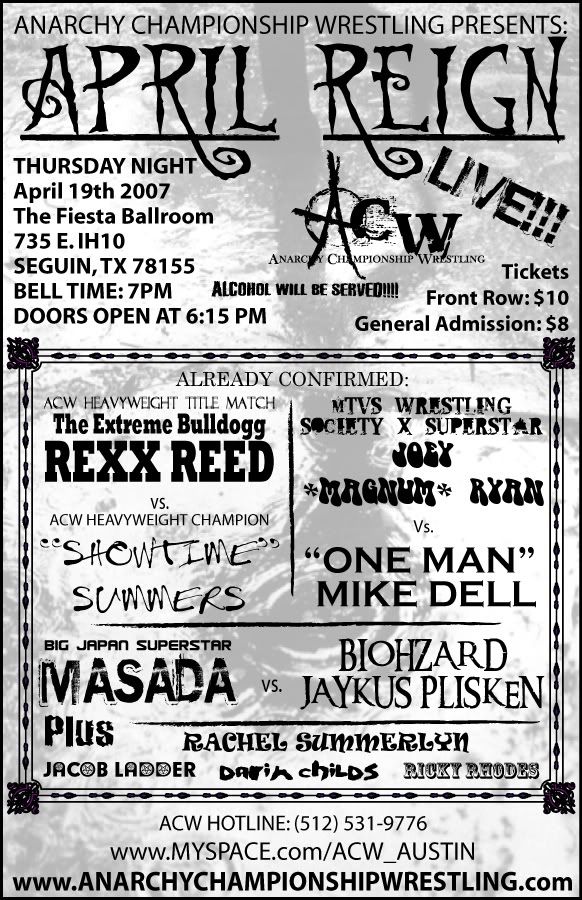 ALREADY CONFIRMED:

ANARCHY CHAMPIONSHIP WRESTLING HEAVYWEIGHT TITLE MATCH
"XTREME BULLDOG" REX REED
Vs.
ACW HEAVYWEIGHT CHAMPION
"SHOWTIME" SUMMERS

MTV'S WRESTLING SOCIETY X SUPERSTAR
JOEY "MAGNUM" RYAN
Vs.
"ONE MAN" MIKE DELL

BIG JAPAN PRO WRESTLING SUPERSTAR
MASADA
Vs.
"BIOHAZARD" JAYKUS PLISKEN

Plus
JACOB LADDER
DARIN CHILDS
RACHEL SUMMERLYN
TONY VEGA
SPIRO
RICKY RHODES

ALCOHOL WILL BE SERVED!!!!

www.ANARCHYCHAMPIONSHIPWRESTLING.com
www.MYSPACE.com/ACW_AUSTIN
(512) 531-9776

TWA American Style Friday

Texas Wrestling Association runs American Style shows on the 3rd Friday of every month at the Texas Wolverine All-Star Gym at 2000 S. Presa featuring the wrestlers of Southern Heat Wrestling. Check out
www.texaswrestlingassociation.com
for details.
ACW presents "Fall From Grace" in Giddings Saturday

ANARCHY CHAMPIONSHIP WRESTLING PRESENTS: FALL FROM GRACE

SATURDAY NIGHT
APRIL 21st 2007
Giddings, TX
BELL TIME: 7pm
DOORS OPEN AT 6:15
ALL AGES!!!!!

TEXAS GRAND BALLROOM
780 N. Orange
Giddings, TX 78942

TICKETS:
FRONT ROW/VIP: $10
GENERAL ADMISSION: $8
KIDS 10 & UNDER: $6
KIDS UNDER 4 ARE FREE!!!!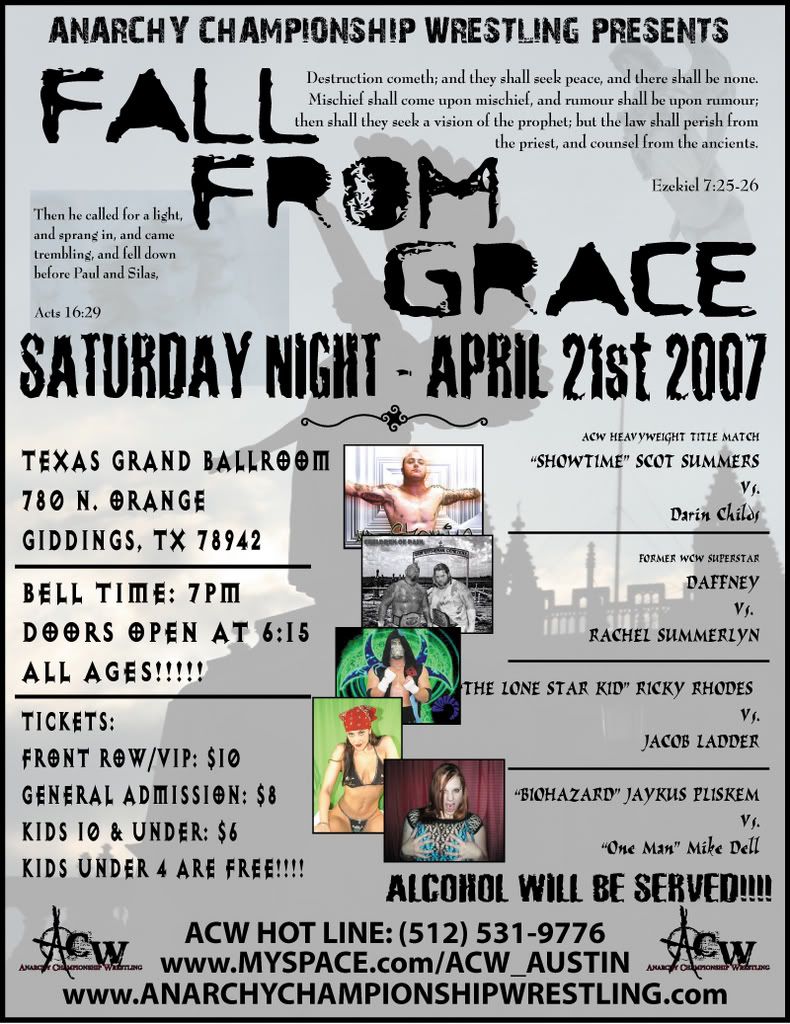 ACW HEAVYWEIGHT TITLE MATCH
"SHOWTIME" SCOT SUMMERS
Vs.
Darin Childs

FORMER WCW SUPERSTAR
DAFFNEY
Vs.
RACHEL SUMMERLYN

Also announced:
"THE LONE STAR KID" RICKY RHODES
Vs.
JACOB LADDER

Plus
"BIOHAZARD" JAYKUS PLISKEM
Vs.
BIG JAPAN SUPERSTAR
MASADA

ALCOHOL WILL BE SERVED!!!!
www.ANARCHYCHAMPIONSHIPWRESTLING.com
www.MYSPACE.com/ACW_AUSTIN
(512) 531-9776


PWI at S.P.L.A.C.H. Saturday
Come out and see all of your favorite PWI Superstars!




Main Event 6 Man Tag
PWI Tag Team Champions The Houligans with Madd Dogg Ken Johnson VS Ozzy Manson, Gabe "The" Babe and Francis Alexander Gibbons

Mojo Vs Renegade

Ryu VS Vega

Also appearing:
Batu
Rolando Rios
Sinsational Sal

Check out www.freewebs.com/pwientertainment for details on all Pro Wrestling Entertainment events.


ACW and IWA Mid-South present "Sunday Bloody Sunday"
ANARCHY CHAMPIONSHIP WRESTLING IN CONJUNCTION WITH IWA MID-SOUTH PRESENTS: SUNDAY BLOODY SUNDAY

APRIL 22ND 2007
"The Venue"
800 Lexington Ave
San Antonio, TX
Bell Time: 7pm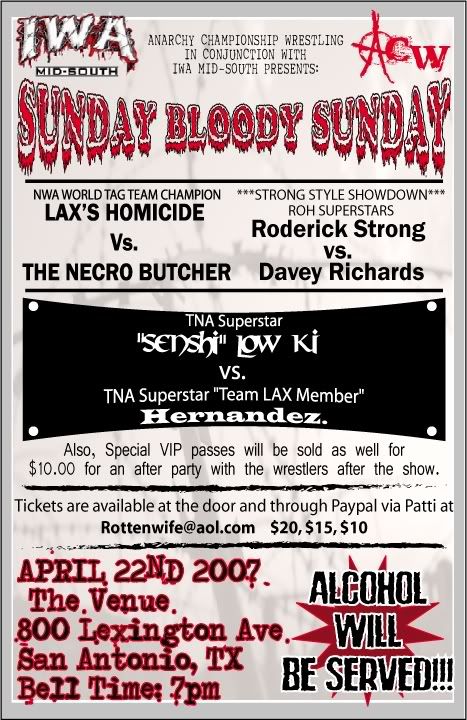 NWA WORLD TAG TEAM CHAMPION
LAX'S HOMICIDE
Vs.
THE NECRO BUTCHER

TNA Superstar "Senshi" LOW KI
vs.
TNA Superstar "Team LAX Member" Hotstuff Hernandez.

***STRONG STYLE SHOWDOWN***
ROH SUPERSTARS
Roderick Strong
vs.
Davey Richards

NEW ADDED MATCHES

IWA Midsouth Women's Title Match Champion
"Queen of the Deathmatches"
Mickie Knuckles
vs.
Former WCW Star "Queen of Scream"
DAFFNEY

AND

Battle of the Sleeze Stashes
Light Heavywieght Champion
Josh Abercrombie
vs.
PWG Superstar
Joey Ryan

Tickets are available at the door and through Paypal via Patti at Rottenwife@aol.com:
$20, $15, $10

Also, Special VIP passes will be sold as well for $10.00 for an after party with the wrestlers after the show.

ALCOHOL WILL BE SERVED!!!
www.ANARCHYCHAMPIONSHIPWRESTLING.com
www.MYSPACE.com/ACW_AUSTIN
(512) 531-9776

Join RCW for screening of "The Condemned" Tuesday April 24
Join RCW for an advance screening of THE CONDEMNED, a Lions Gate/WWE Film

Starring WWE's Stone Cold Steve Austin!
Tuesday, April 24

AMC Huebner Oaks 24

11075 IH-10W
7:30 p.m. ... but be sure to be there EARLY!!

RCW recommends being there at least an hour early
RCW will be GIVING AWAY 150 passes!!!
Each pass is good for two people!
Those wearing RCW gear will be given first priority!
RCW's Brandon Oliver and others will be out front ... catch them for the passes!

You will also have the chance to buy discount tickets to the April 28 RCW event and regular admission tickets to the April 29 RCW event.
RCW presents "Payback" Saturday April 29
Eric Young headed to RCW on April 28
River City Wrestling presents a live professional wrestling event on Saturday, April 28, 2007, 7:30 p.m. (doors open @ 6:45 p.m.) at Bellaire Baptist Church, 116 Clovis in San Antonio, TX. The church is located at the corner of Pleasanton and Clovis, in-between SW Military and Hutchins.
Appearing at the event will be TNA superstar "Showtime" Eric Young. This is the first ever Texas appearance for Young.

The action-packed card also contains two teams at war. One team -- Team MEX -- is led by TNA superstar Hotstuff Hernandez and comprised of RCW Cyber Champion Sicodelico Jr. and The Texas Treats, Don Juan and Chris Marval. Their main adversaries -- The Caucasian Knights -- are led by "Main Event" Mike Foxx and comprised of B.J. Turner, Messiah, Scott McKenzie and Rory Fox.

Also appearing will be:
"The Smashing Machine" Ikaika
Franco D'Angelo & "Mr. Beautiful" Rudy Russo
The Hardbodies ("Simply Luscious" Andy Dalton & Joey "Super Shot" Spector)
Quinten Allen
Gemini
Aguila Negro and much more!
Also, what will happen to the RCW Championship since the current champion -- Masada -- will be headed to Japan near the end of April!
Plus The Lovely Ladies of RCW!

This event benefits Bellaire Baptist Church, as well as Hope of Glory Church, whom will be handling the concessions at the event.

The event is sponsored by RED jAK Energy Drink.
Tickets are $7 in advance, $10 at the door. Advance tickets can be purchased online at http://www.rcw-wrestling.com with PayPal or by calling (210) 842-8398.

The discounted, advance tickets will not be available after Thursday, April 26, at 10 p.m.
Tickets are on sale now!

Card is subject to change. For more information, visit http://www.rcw-wrestling.com or call (210) 842-8398.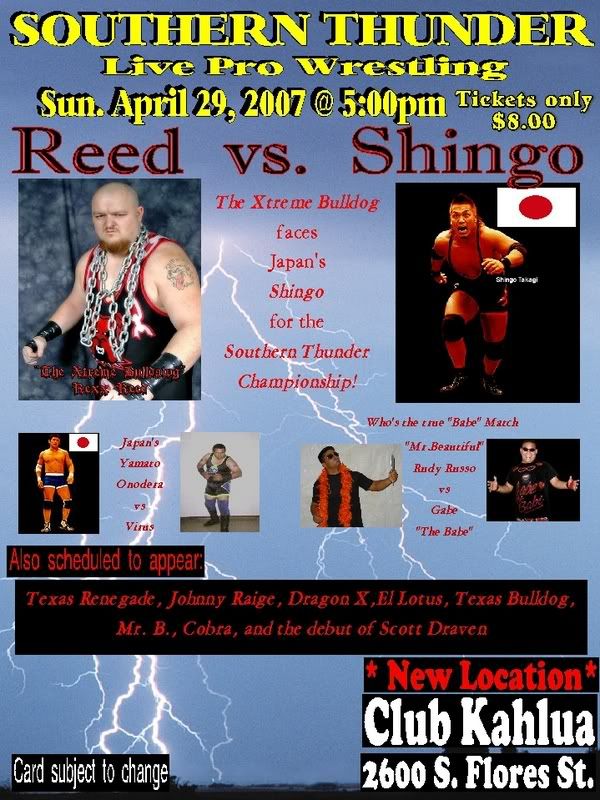 Dragongate Japan Superstar/Southern Thunder Champion-Shingo
defends the title against The Xtreme Bulldog Rexx Reed.

Also appearing Dragongate Superstar-Yamato Onodera

Texas Renegade, El Lotus, Dragon X, Virus, Cruiserweight Champion "Mr. Beautiful" Rudy Russo, Johnny Raige, Gabe "The Babe", Mr. B, Texas Bulldog, and Scott Draven


RCW at MetalFest Sunday April 29
RCW News: Second show added in April
River City Wrestling has added a second show in April. The second RCW event this month will take place on Sunday, April 29, at Graham Central Station in San Antonio, TX. The event is part of a "MetalFest."
With "Payback" on Saturday, April 28 at Bellaire Baptist Church, this will be a double-shot weekend for RCW.


Sunday, April 29

Graham Central Station

4902 Fredericksburg Rd.

San Antonio, TX

The action starts at 7:00 p.m.

Tickets are $12 per person ... be sure to buy them in advance!!!

To order in advance, please call (210) 842-8398 to arrange a pick-up time or purchase tickets at THE CONDEMNED advance screening or at the April 28 RCW "Payback" event

Card information soon to come!

http://www.grahamcentralstationsanantonio.com