ACW'S FIRST DOUBLE SHOT: 3-10 in Giddings, TX - 3-11 in SA


ANARCHY CHAMPIONSHIP WRESTLING PRESENTS: A GOOD OLE' TEXAS BRAWL
SATURDAY NIGHT
March 10th 2007
Giddings, TX
BELL TIME: 7pm
DOORS OPEN AT 6:15
ALL AGES!!!!!
TEXAS GRAND BALLROOM
780 N. Orange
Giddings, TX 78942
TICKETS
FRONT ROW/VIP: $10
GENERAL ADMISSION: $8
KIDS 10 & UNDER: $6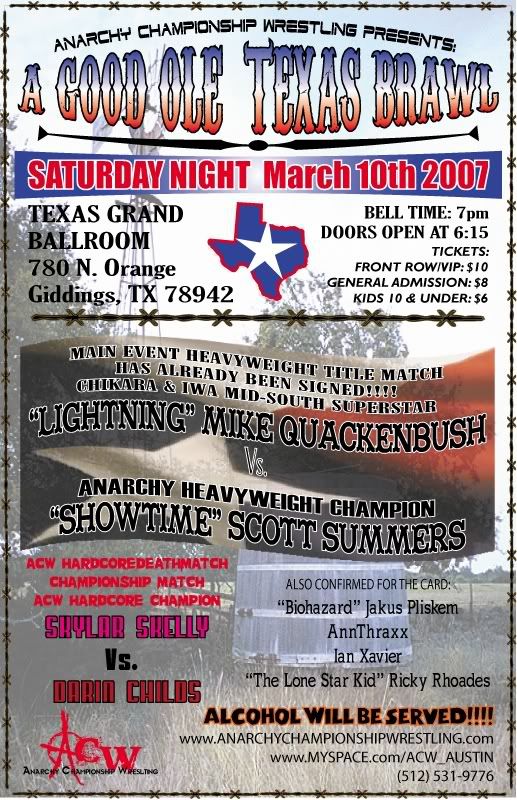 b
MAIN EVENT HEAVYWEIGHT TITLE MATCH HAS ALREADY BEEN SIGNED!!!!
CHIKARA & IWA MID-SOUTH SUPERSTAR
"LIGHTNING" MIKE QUACKENBUSH
Vs.
ANARCHY HEAVYWEIGHT CHAMPION
"SHOWTIME" SCOTT SUMMERS
STRAIGHTEDGE TAIPEI DEATHMATCH
(BOTH FISTS AND FEET WILL BE TAPED AND COVER IN BROKEN GLASS FROM IBC ROOT BEER BOTTLES)
WINNER OF THIS MATCH GOES ON TO FACE JACOB LADDER LATER IN THE NIGHT FOR THE HARDCORE TITLE!!!
SKYLAR SKELLY W/ STARR BABAGANOUSH & CHESTY LARUE
Vs.
" EL NINO DEL DOLOR" DARIN CHILDS
UNLUCKY 13
(Winner must staple 7 one-dollar bills to their opponent to gain victory)
WINNER OF CHILDS VS. SKELLY
VS.
ACW HARDCORE CHAMPION
JACOB LADDER
TWE TELEVISION CHAMPIONSHIP MATCH
BRETT THUNDER
Vs.
SKITZO
ALSO CONFIRMED FOR THE CARD:
"BIOHAZARD" JAKUS PLISKEM
REXX REED
"THE LONE STAR KID"
EL LOTUS
ALCOHOL WILL BE SERVED!!!!
www.ANARCHYCHAMPIONSHIPWRESTLING.com
www.MYSPACE.com/ACW_AUSTIN
(512) 531-9776
DAY 2 OF THE FIRST ACW DOUBLE SHOT
Anarchy Championship Wrestling Presents:
CLAUDIO VS QUACKENBUSH
March 11th 2007
"The Venue"
800 Lexington
San Antonio, TX
Belltime: 7pm Doors open at 6:30
Tickets
VIP: $10
General admission: $7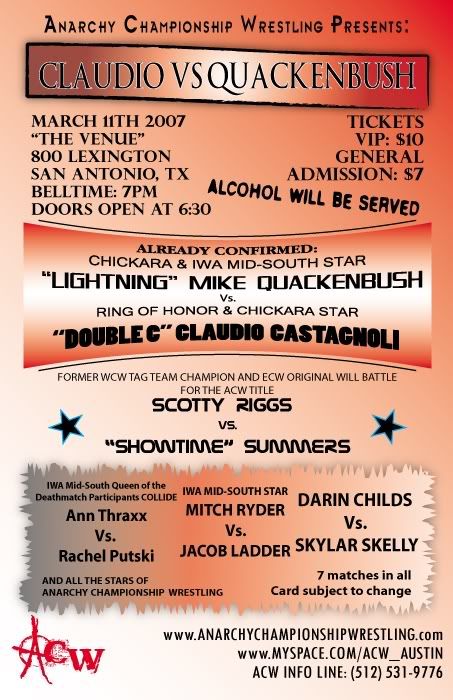 ALREADY CONFIRMED:
CHICKARA & IWA MID-SOUTH STAR
"LIGHTNING" MIKE QUACKENBUSH
Vs.
RING OF HONOR & CHICKARA STAR
"DOUBLE C" CLAUDIO CASTAGNOLI
FORMER WCW TAG TEAM CHAMPION AND ECW ORIGINAL WILL BATTLE FOR THE ACW TITLE
SCOTTY RIGGS
VS.
"SHOWTIME" SUMMERS
IWA MID-SOUTH STAR
MITCH RYDER
Vs.
JACOB LADDER
BAREFOOT THUMBTACKS
DARIN CHILDS
Vs.
SKYLAR SKELLY
AND ALL THE STARS OF
ANARCHY CHAMPIONSHIP WRESTLING
7 matches in all
Card subject to change
ALCOHOL WILL BE SERVED!!!
MIKE QUACKENBUSH SEMINAR ON MARCH 11th - THIS SUNDAY!!!!
…ANARCHY CHAMPIONSHIP WRESTLING PRESENTS A SPECIAL TRAINING SEMINAR HELD BY INDEPENDENT WRESTLING SUPERSTAR "LIGHTNING" MIKE QUACKENBUSH.
MARCH 11th 2007 ACW in San Antonio
The Head trainer of the CZW/Chikara wrestle factory, Mike Quackenbush will be holding a special seminar prior to the Anarchy Championship Wrestling show.
The Seminar is open to all trained professional wrestlers for only $20, which is a ridiculously low price for the opportunity to not only learn from one of the best but also be seen by such an influential player on the independent scene as Mike Quackenbush.
For further Details please contact info@anarchychampionshipwrestling.com
www.ANARCHYCHAMPIONSHIPWRESTLING.com
www.MYSPACE.com/ACW_AUSTIN
(512) 531-9776
DO NOT MISS THIS HUGE OPPORTUNITY!!!
SEMINAR DETAILS:
STARTS at 2pm, as in be dressed stretched and ready at 2PM
Location:
THE VENUE
800 LEXINGTON
SAN ANTONIO, TX
COST IS ONLY $20